Dix Hills and Melville are lovely residential communities located in the southern part of the Town of Huntington - from the Nassau County Line to Commack Road – about 40 miles from Manhattan. There are approximately 46,000 residents who live within this area of tree-lined streets and rolling hills. All parkways, public transportation and shopping (the Walt Whitman Shopping Center is nearby, as well as the Village of Huntington) are located nearby - making this a desirable place to live. The South Shore Beaches, The Hamptons and Manhattan are all easily accessed. The 110 Corridor is a prime business and corporate area, located in Melville, within the boundaries of the Half Hollow Hills School District.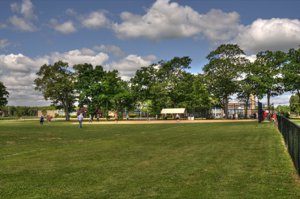 Dix Hills takes its name from Dick Pechegan, an Indian who lived here in the 1600's. Dick's Hills eventually became known as Dix Hills. William Vanderbilt built the first concrete road built in the United States, first used as a private raceway for himself and his friends and later as a toll road. The 35-mile raceway ran from Queens to Ronkonkoma and passed through Dix Hills and was called Vanderbilt Motor Parkway. Flanked by large landscaped homes, part of that roadway that ran through Dix Hills remains in use today. During the Gold Coast era, such well-known personages as Baruch, Gould and Vanderbilt set up many large estates and hunting lodges in Dix Hills.
Today, the zoning laws and the diligent efforts of the residents have kept Dix Hills a largely residential area, with few commercial enterprises. Although there is no "main street', residents find a community life centered on the schools, the numerous religious organizations, and the active civic groups. There is ample shopping, both upscale and moderately priced in close proximity – including the Walt Whitman Shopping Center located on Rte. 110. The parkways nearby make the other shopping areas on Long Island, such as the Roosevelt Shopping Center, Smith Haven Mall, The Arches in Deer Park and even The Tanger Outlet Mall in Riverhead are easily accessible.


Dix Hills Park is a 149-acre town-owned recreation area. There one can find a 9-hole golf course (open year round), an outdoor pool complex featuring a 50-meter swimming pool with 3 diving boards, decks and kiddie pool, a band amphitheater, playgrounds, and picnic areas. An enclosed ice-skating rink is open year-round. The Town of Huntington runs a full day Adventure Camp - which includes swim instruction and ice skating – at the Park during the summer. There also are 5 small parks with picnic areas, tennis and handball courts, and playing fields. Local sports clubs use the numerous playing fields located on school

grounds for their programs. The track at High School West is popular with residents as a place to walk and meet other residents to run. Swimming programs for residents are offered throughout the year at the Natatorium, located next to HS West on Wolf Hill Road. In addition, the Town of Huntington has numerous town beaches and parks that are located nearby.
Ignore the square footage data as most homes on Long Island do not list square footage and the results shown do not reflect all homes on the market.